Lilongwe Cheapest Fares
The lowest fare found to Lilongwe (LLW) was £591 with Ethiopian Airlines. The fares shown here are the lowest flight prices to Lilongwe obtained in actual searches by Just The Flight customers. To search and book flights to Lilongwe in 2020 and 2021, please enter your requirements and click the search button above.
The annual Lilongwe International Festival of Arts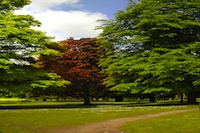 Lilongwe is a great destination for nature lovers. The reason for this is that the city's landscape is primarily dominated by greenery. In fact, the number of open spaces is such that most buildings in the town are divided by significant tracts of parkland, whether trees or just grassy spaces. Such an environment is perfect for artistic pursuits, which is also the reason why the city is famous throughout the world for its annual Lilongwe International Festival of Arts.
This event, which is held annually in the capital of the exotic country of Malawi, can be described as a convergence of various art forms from all over the country and the world. In fact, the festival sees various art forms from all corners of the world, including such diverse events as famous Shakespeare plays, puppetry, Korean drumming, poetry, visual art exhibitions and plays from groups in Ireland. For tourists, it is a wonderful place to get lost in nature and art simultaneously, because the annual Lilongwe International Festival of Arts allows visitors to join in themselves. For example, there are feasts, which are termed festival family day, storytelling and various forms of fun and games.
For anyone who enjoys experiencing the natural world, along with a wealth of art forms from around the world, a visit to Lilongwe is definitely not to be missed. Furthermore, it is also worth noting that flights to the capital of Malawi are easily available at economical prices. The city is a destination that is well worth a visit.