Port Elizabeth Cheapest Fares
To search and book flights to Port Elizabeth in 2022 and 2023, please enter your requirements and click the search button above.
Come to Port Elizabeth for the Annual Bridal Fair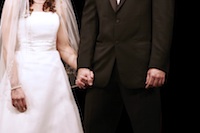 South Africa's La Femme Bridal Fair is the largest event of its kind in the Eastern Cape, and it can be reached easily thanks to the many international flights that arrive daily. Thousands of attendees arrive for the fair each May, making this a truly one of a kind experience for the wedding enthusiast.
The event is held in the Feather Market Centre and features a comprehensive selection of wedding photographers, bridal fashion designs, wedding gift selections, wedding invitation makers, and flower arrangers. Reception venues are also featured, as well as catalogues, and honeymoon destination information. Beauty consultants are also on sight to help make your special day everything it can be. Other highlights of the bridal fair include competition winner announcements of the La Femme's Win a Dream Wedding Competition. One of the most exciting events is the fashion parade featuring a range of wedding costumes and bridal wear, from traditional styles to cutting-edge modern styles.
Port Elizabeth is a modern and developed destination in the heart of South Africa, situated within the Eastern Cape providence, approximately 770 kilometres away from Cape Town. The city is nicknamed "The Friendly City" because of its welcoming atmosphere, pleasant locals, diverse culture, and beautiful beaches. Water-sports are a very popular pastime along the coastline, and there is never a lack of exciting things to do in Port Elizabeth. La Femme Bridal Fair is not to be missed for the modern bride who wants a unique, modern and stylish wedding that none of their guests will ever forget. Make that special day extra special.