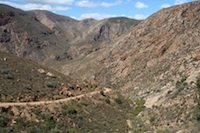 Book cheap flights to South Africa by selecting an airport destination in South Africa below. Compare flights to South Africa from over a hundred airlines worldwide and book online with us today.
South Africa is located on the southernmost tip of the African continent. It is a diverse and complex country, often referred to as the "Rainbow Nation." The country has three capital cities. Pretoria holds the executive position, Bloemfontein is the judicial capital, and Cape Town is the legislative capital. The host nation of the 2010 FIFA World Cup, South Africa has benefitted massively from the improvements to infrastructure and the large injection of tourist cash that the tournament brought.
Some 800,000 tourists visit South Africa each month and are attracted by the diverse cultural influences, the magnificent scenery, and large game reserves. Cape Town is one of the most visited cities in South Africa. With the looming sight of Table Mountain ever present throughout the city, it is easy to see why it is so popular. Fans of YouTube will surely have heard of the Kruger National Park, scene of the buffalo and crocodile battle that has been watched over 40 million times on the site. The Kruger National Park is an epic game reserve that allows visitors to see many animals in their natural habitats.
South Africa continues to remain famous for its vineyards that are the oldest wine making industry outside of Europe and are worth a visit. Fans of the city and nightlife will flock to areas such as Cape Town's Long Street, where bars and restaurants abound and the party seems never ending.