Hoedspruit Cheapest Fares
To search and book flights to Hoedspruit in 2020 and 2021, please enter your requirements and click the search button above.
The Annual African Bush Banquet, Hoedspruit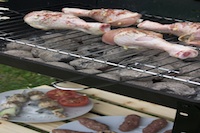 The safari holiday destination of Hoedspruit is better known for being at the heart of South Africa's game reserves, but it also holds one of the world's most inspiring annual competitions, the Annual African Bush Banquet.
Local regional chefs and cuisine connoisseurs participate in this tasty competition in Hoedspruit every spring. The competition started in 2002 and since then it has become one of the most exciting and well-known outdoor competition destinations.
Every year the starlit, outdoor event is held in courtyard of the Southern Cross School, on a wildlife estate just outside of Hoedspruit. Chefs from the top regional restaurants, cookery schools, game lodges and country houses bring ingredients and equipment to compete against fellow culinary colleagues. Each chef and their team are able only to use gas, fire, water and ice to prepare their innovative courses from scratch, though starters and desserts are prepared prior to the competition.
The competitors present 10 chosen diners with at least three courses, whilst two more plates are prepared for the judges to taste. Judges invited from all over South Africa and also the United Kingdom set about deciding the difficult task of how to score in areas ranging from the set up of each team's portable kitchen, imaginative and attractive table settings, and then the actual dinner service. After that, each plated entry must be tasted, discussed and scored with, of course, the accompanying complementary wine.
Every year this wonderful competition raises funds for local outreach programmes such as the Kids-4-Kids project and the local Hlokomela farm workers project in Hoedspruit. It also raises money for the Southern Cross Schools.