Phalaborwa Cheapest Fares
To search and book flights to Phalaborwa in 2019 and 2020, please enter your requirements and click the search button above.
Mining Town becomes exciting Tourist destination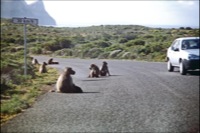 An astounding geological feature filled with minerals and metallic ores, including those of gold and copper, it is not surprising that, for most of its history, activities in Philaborwa have revolved around the mining industry. Phalaborwa is the site of the 'Big Hole' the largest man- made hole on Earth. Clearly visible from Space it is a fairly awe inspiring sight even if mines and mining are not your interest. Mining has been going on in Phalaborwa since 400 AD, and although the north-eastern area of the Lowveld is magnificently beautiful, mining has, and continues to be, its main source of income.
In recent years however the regional administration has been encouraging area investment in the value of Phalaborwa as a tourist destination. Its proximity to the northern sector of the famed Kruger National Park and several other game reserves, plus its pleasant winter climate, makes Phalaborwa an ideal destination for a winter sojourn.
Since 2008 the annual Limpopo Marula Festival, incorporating no less than five individual iconic events: The Marula Golf Challenge, the Marula Festival Half Marathon, The Marula Open Air Music Festival, the Marula Youth Soccer and Street Soccer event and the Marula Exhibition of Cultural Products and Tourism Career Fair has drawn thousands of visitors to the picturesque area. The proclaimed purpose of the festival is to create an 'authentic brand that can be embraced by everyone'.
Phalaborwa has a bright and enduring future both as a tourist venue and as a centre of commerce in this region of South Africa.