Uzbekistan Airways Flights and Routes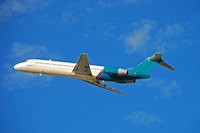 Uzbekistan Airways is the state airline of Uzbekistan. They operate scheduled flights to more than forty cities of the world including America, Europe, Middle East, Southeast, Central Asia and the CIS
Due to increased travel demand, Uzbekistan Airways has added additional flights to a key route. The airline now serves Tashkent – Islamabad and Tashkent – Mumbai as tourist volumes have increased from Pakistan and India into Uzbekistan. There will be a division in destinations as Uzbekistan Airways launches flights from Tashkent – Islamabad and Tashkent – Lahore.
Uzbekistan Airways has been presented with two awards for their fight security from Flight Safety Foundation International. The company was given an honourable diploma for the prevention of incidents and ensuring its security on global flights in civil aviation.
The company was also awarded for achieving high security and reliability of its flights during the last ten years it has used Boeing aircraft. This is a great accomplishment since the company owns many Boeing airplanes including RJ and Airbus.
Uzbekistan Airways has been listed as the leading airline carrier in Central Asia. The company is based out of Tashkent Airport and operates a fleet of 34 aircraft, making it the largest in central Asia. The planes are a combination of Airbus, Boeing, and Ilyushins. They are adding an additional 13 aircraft to their current fleet. Uzbekistan serves more than two million travellers a year and offers a wide array of facilities and VIP halls in their international and domestic terminals.
The airline flies to many Asian and European destinations, totalling 50 destinations around the world, however its main focus is Western Europe. Uzbekistan Airways owns a total of 11 airports, five of which are international.