Atlasjet Airlines Flights and Routes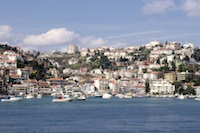 Turkish airline , founded in 2001, offering domestic flights to 14 destinations including Northern Cyprus
As Turkey's national carrier, Atlasjet Airlines carries approximately 48,000 passengers a year. It is a preferred airline for its low-cost flights, however the airline intends to add alternative travel options for customers looking to travel for even less.
Established in 2001 and based at Istanbul, the Turkish airline flies to many international destinations such as Czech Republic, Germany, Spain, Dubai, Holland, France, Kazakhstan, Hungary, Italy, Egypt, and Denmark.
Atlasjet Airlines also operates in a large number of domestic areas including Usak, Bodrum, Adana, Kars, Mardin, Tokat, Dalaman, Ankara, Kahramanmaras, Istanbul, Siirt, Kuzey Kibris Türk Cumhuriyeti, Antalya, Sivas, Van, Edremit, Trabzon, and Izmir.
Atlasjet Airlines is a popular holiday airline that caters to many domestic and international clients. It has grown to be a solid provider for tourist destinations to those who seek common beach resort holidays as well as those looking to explore the local countryside.
AtlasJet Airlines operates a mixture of Airbus and Boeing aircraft and can connect tourists with many of Turkey's cities, both small and large. It provides cargo and passenger services on scheduled and unscheduled flights abroad as well as throughout Turkey.