Minneapolis-St Paul (MSP) Airport Guide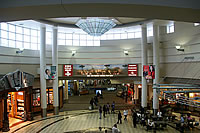 Minneapolis-St Paul International Airport is one of the busiest transport hubs in the US and handles over 34 million passengers annually.
The airport is located around kilometres south of downtown Minneapolis and is home to two full-service terminal buildings.
Minneapolis-St Paul International Airport Amenities
The airport boasts a wide range of amenities, with plenty of restaurants to choose from and shops to explore.
Full-service eateries at the airport include Itasca Grille, Locanda D'Amico and the Northern Lights Grill, which serves local cuisine, such as its "famous wild rice soup" and "Mom's pot roast sandwich".
Those looking for quick service will find burger and sandwich bars located throughout both terminals.
Passengers with time to kill in between flights will find a good range of shops to browse. For last-minute gifts and novelty items, head to Everything ASAP or Minnesota!, which stocks a good selection of t-shirts, souvenirs and handcrafted local pottery.
Clothing outlets at Minneapolis-St Paul International Airport include Hugo Boss, Naturally Cashmere, Erwin Pearl and, of course, Tie Rack.
There is also a large duty free store and several book shops.
Those travelling with children will find two entertainment areas at the airport - Lucky Lindy's Video Arcade and Aurora Borealis, which is open 24 hours a day. Minneapolis-St Paul International Airport is also home to a barber shop and hair salon, as well as several shoe[-]shine stands.
For business passengers, the airport's Conference Centre is a one-stop-shop, with meeting rooms, mail delivery services, data ports, projectors and presentation equipment available.
Terminals at Minneapolis-St Paul
There are two terminal buildings at the airport - Lindbergh and Humphrey. Both buildings are linked by a light rail transit service and the highway. Passengers should note that there is no direct pedestrian access between the terminals and should allow enough time to travel between the two areas.
Minneapolis-St Paul International Transport Links
There are several transport options available to those arriving at the Minneapolis-St Paul International Airport. As well as connecting both terminal buildings, the light rail service offers connections to 15 other destinations, including downtown Minneapolis and the Mall of America.
Trains run every seven minutes during peak times and every 10 to 15 minutes for the rest of the day.
The centre of Minneapolis can be reached in around 25 minutes, with fares ranging from $1.75 to $2.25 depending on the time of day.
Regular bus services run from both the Lindbergh Ground Transportation Atrium and the Humphrey Ground Transport Centre.
Taxis are available from both terminals and staff are on hand to assist passengers looking for a cab. Fares to downtown Minneapolis range from $32 to $42 and those travelling to St Paul can expect to pay anything from $26 to $32.
Several car rental companies also operate from the airport, including Alamo, Avis, Budget and Hertz.