Icelandair Flights and Routes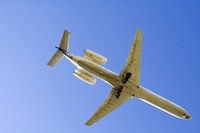 Icelandair operate direct flights to 24 international destinations
Iceland's flagship carrier, Icelandair, which operates a variety of routes to destinations in the United States, has formed a very useful and beneficial link-up with U.S. airline JetBlue. This partnership means that Icelandair passengers can now enjoy one-stop check-in for both airlines from the comfort of their own homes.
Flights are available to book via Icelandair's website, and using this interface, the link with JetBlue will in turn allow passengers to meet their connections in the US with ease, bypassing tedious check-ins and manual baggage transfers. This system offers a more efficient, better quality service for customers flying to the US.
The airline flies to a variety of destinations in the United States including Boston, Chicago, Las Vegas, New York and Washington from the Icelandic capital of Reykjavik. Passengers can enjoy a comfortable ride and can select from three cabin classes and a variety of in-flight entertainment.
The partnership will also benefit customers of JetBlue who will be able to access onward destinations from Reykjavik such as Scandinavian airports. Alternatively they will be able to take advantage of taking a break in one of the most breathtaking countries in the world. Iceland with its spectacular scenery including geysers, natural hot springs, volcanoes, waterfalls and glaciers is quite unlike any landscape that can be experienced anywhere else in the world.