Phoenix Sky Harbor (PHX) Airport Guide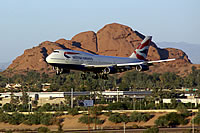 Serving the state of Arizona, Phoenix Sky Harbor International Airport handles approximately 100,000 passengers every day and is one of the ten busiest airports in the world.
The airport comprises four terminal buildings and is spread across a site of 3,000 acres.
Airlines currently serving the airport include British Airways, Air Tran and United Airlines.
Phoenix Sky Harbor International Airport Amenities
Phoenix Sky Harbor International describes itself as "America's friendliest airport" and passengers will certainly find a welcoming range of amenities on offer.
When it comes to shops, there is certainly no shortage of choice and popular outlets include the Rocky Mountain Chocolate Factory, Talking Hands, which sells Native American gifts, and The Phoenix, which stocks general souvenirs.
There are plenty of bars and restaurants, with eateries including the Round Table Pizza, Dick Clark's American Bandstand Grill and the Taberna del Tequila.
Should passengers find themselves in an emergency situation while at the airport, they can rest assured that they are in safe hands. Phoenix Sky Harbor even has its own Traveller Aid Centre, which is based in the Airport Chapel and offers assistance and advice to those in need.
The airport offers a passenger paging service, which is ideal if families become split up or children get lost. Using kiosks in the terminals, passengers can display their message on large screens and even prompt a verbal announcement.
Free wireless internet access is also available to passengers on both sides of security.
Those with some spare time on their hands can visit the airport's museum, which has exhibitions open around the clock and is also home to an art collection featuring more than 500 works.
Terminals at Phoenix Sky Harbor
The airport is home to four terminal buildings and passengers can use the free shuttle bus service to travel between these. Buses are frequent and journey times between each terminal take around seven minutes.
Phoenix Sky Harbor International Transport Links
Passengers travelling to downtown Phoenix have a number of options available to them.
Phoenix Sky Harbor International Airport has its own car rental centre, where all of the rental companies and their cars are based. A shuttle bus operates continually, transporting passengers from the baggage reclaim levels of each terminal to the car centre. Several companies operate from the airport including Budget, Dollar, Enterprise and Hertz.
Taxis are also available, although passengers should note that most impose a minimum fare of $15 and charge by the hour when delayed in traffic.
Limos are also available for those looking to start or end their holiday in style. Fares vary depending on destination but typically range from $35 to $85.
Meanwhile, those looking for a cheaper option can take the bus or train. Buses run regularly from the airport and passengers can use the airport's free shuttle bus to connect between terminals and the nearby Metro light rail stop.