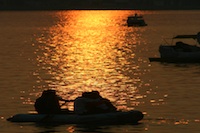 Book cheap flights to Vietnam by selecting an airport destination in Vietnam below. Compare flights to Vietnam from over a hundred airlines worldwide and book online with us today.
Located in southeast Asia, Vietnam sits on the easternmost side of the Indochina Peninsula, with the South China Sea to its east, the People's Republic of China directly north, and Cambodia and Laos to the south west and northwest, respectively.
With lushly forested mountains and hills, the climate is certainly welcoming to tourists. Northern regions are cooler than southern regions, with temperatures dropping as low as five degrees in December and rising to about 37 degrees in July and August in the south. Northern regions have more moderate temperatures, approximately 21 to 27 degrees, with only modest variations, throughout the year.
Ho Chi Minh City offers international flights from its Tan Son Nhat International Airport, first established in the 1930s. Although smaller, Noi Bai International Airport is located in the capital city of Hanoi and has more modern amenities.
Vietnam receives 4.4 million international visitors a year. Its rich culture is one attraction and its 3000 km long coastline is another. Backpack or take walking tours through the country, or relax on its beaches. Attractions in its major cities, including Ho Chi Minh City and Hanoi, are also focused on your enjoyment. Attractions in Ho Chi Minh City (previously Saigon) include historical attractions like museums, cultural houses, and theatres. You can also visit more modern attractions like Saigon Water Park.
In addition to tourism, agriculture, forestry, and fishing help drive the economy, as does manufacturing to an increasing extent.