Nha-Trang Cheapest Fares
To search and book flights to Nha-Trang in 2020 and 2021, please enter your requirements and click the search button above.
Nha Trang Beach Life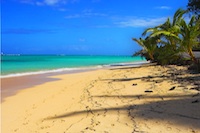 Any holiday to Vietnam is not complete without a trip to its Ocean City in the summer. The seasonal destination of Nha Trang is a bustling, exciting city located on the beach and is a premier destination for Vietnamese who want to go on holiday and enjoy a little surf and sun. It draws thousands in the summer because of the seasonal delights found here. The area boasts a hopping nightlife filled with bars and nightclubs that are often filled to capacity with revellers, and exceptionally relaxing beaches.
The first place that anyone who visits Nha Trang goes is to the beach. This is no wonder considering the city is known as Vietnam's very own Ocean City; a popular vacation spot where visitors will often see families on the beaches and young people driving up and down the main seaside avenue strip. It is known as a stopping off point for the backpacker crowd and, as a result, there are many reasonable types of accommodation found throughout the city.
Nha Trang's beaches are excellent for snorkelling, diving and playing in the surf. More than 20 islands surround the city and dot the horizon when looking out at the sapphire clear waters. Cruise ships leave daily for the island getaways and many visitors find these short jaunts to be some of the most relaxing because of the natural beauty of the area.
The parties in Nha Trang are lively and explosive, with all kinds of loud, vibrating music and crowds of visitors of all ages taking to the beaches and the bars nightly for drinking and dancing.