Garuda Flights and Routes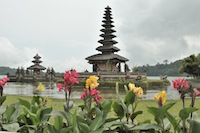 Garuda is an Indonesian based airline, fly from Indonesia to destinations in Australia and New Zealand
The city of Makassar, capital of Indonesia's South Sulawesi province, has been installed as Garuda Indonesia's third hub in the East. At the front line of Indonesian economic development, Makassar has long been an important trading hub, and the move was welcomed by Indonesia's business community.
Makassar is the largest city in Sulawesi, located on the southern tip of the island, and has historically been one of the primary trading centres in the region. The city houses Sulawesi's largest port, in addition to providing key contacts for business throughout southeast Asia and Australia.
Although primarily a business hub, the city has many other attractions to offer, including many colonial buildings, the large Trans Mall and Trans Studio, the third largest theme park in the world.
Customers of Garuda can also benefit from the latest additions to the fleet. Airbus A320 aircraft will be added to the Garuda fleet to make journeys even more comfortable. An additional benefit will also be felt by customers as amongst these new additions are A320neo planes which are highly fuel efficient meaning costs will be down. With these aircraft passengers can choose from either Economy or Business Class cabins on each route the company offers.
Garuda is a member of SkyTeam