Croatia Airlines Flights and Routes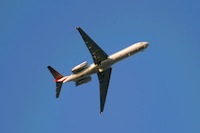 Croatia Airlines provide flights from 6 Croatian airports to destinations across Europe
Croatia Airlines, a member of the Star Alliance, has seen large rises in numbers of passengers year on year. These increases may have resulted from the bridging of the gap between Croatia and Turkey through direct air links between the two countries. Croatia Airlines provides these services which are mutually beneficial to the tourist industries of both countries.
Flights on board Croatia Airlines offer passengers free baggage allowance up to 20 kilograms, newspapers and food and drinks on board. Passengers can also take advantage of the 'Miles & More' programme allowing them to collect air miles and other rewards.
The airline is no stranger to links to Turkey as it operated flights from 1992 to 1999. As Croatia is recognised as the new 'up-and-coming' tourist destination of Europe, the link provided by the national airline of the country works in support of the growing tourist industry. Turkish citizens do not need a visa to enter the Republic of Croatia and are huge admirers of the country's history and natural beauty.
Zagreb is the political and cultural capital of Croatia. It boasts a thriving artistic community of painters, musicians and DJs, and a nightlife that can be both lively and sophisticated, depending on the venues of choice! Likewise, Istanbul is firmly established as a stylish hub of fashion, art and great food and drink. The capital manages to integrate its modern, trendy culture with traditional Turkish traditions, and will benefit from the increased influx of travellers from Central Europe.
Croatia Airlines is a member of Star Alliance