Paris Charles de Gaulle (CDG) Airport Guide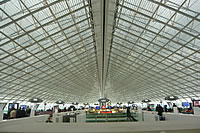 As France's largest airport, Paris Charles de Gaulle (CDG) handles around 200,000 passengers daily and, aside from London Heathrow, is the busiest passenger airport in Europe.
Also known as Paris Roissy, Charles de Gaulle comprises three terminal buildings and is located around 23 kilometres north-east of Paris. The airport is just ten minutes away from Disneyland Paris and one hour from Brussels, with rapid TGV trains departing regularly.
Charles de Gaulle Airport Amenities
The airport handles more than 200,000 passengers every day and, as with most of Europe's busy airports, is well equipped to cater for the volumes of people passing through.
There are nine help desks located within the airport's terminal buildings and free maps and guides are available on request. Charles de Gaulle caters well for disabled passengers and anyone requiring extra assistance is advised to make this known at the time of booking.
Terminals 1 and 2 are both home to medical centres and post offices. Passengers will also find a chapel, synagogue and a mosque in both buildings.
Wireless internet access is available in Terminal 2 and passengers will find a dedicated business centre in Terminal 1, complete with eight comfortable meeting rooms, offices, a lounge and general fax/photocopying facilities.
The airport is home to dozens of eateries, including the Bill Bentley Bar, Brioche Doree, Cafe Corner, Hippopotamus, L'Escale Parisienne, Cafe Ritazza and L'Autre Cafe.
Anyone hoping to pick up some last-minute gifts and souvenirs at the airport will not be disappointed. Charles de Gaulle is home to a number of outlets, including Children's World, the Gourmet Shop, Cartier, Hermes, L'Occitane, and a number of duty-free stores.
Travellers looking for overnight accommodation close to the airport will find several hotels in the vicinity, with the Sheraton Paris Airport and the Holiday Inn Paris Charles de Gaulle both located within a two-kilometre radius.
According to travel-library.com, the airport is located close to the little-known Saint Martin canal, which is a quiet place to escape the crowds and take a relaxing stroll.
Terminals at Paris Charles de Gaulle
Paris Charles de Gaulle is home to three terminal buildings, all of which are connected by the CDGVAL airport metro line.
The majority of major carriers which transport passengers from the UK, such as British Airways, Air France, Delta and KLM, operate from Terminal 1 and Terminal 2.
Charles de Gaulle Transport Links
The airport is served by bus, rail and taxi, with regular transport available for passengers around the clock. Those looking to splash the cash or impress can book a chauffeur-driven car for around 100 euros.
Buses run every ten minutes from the airport during peak times, with the average journey to the city centre taking around 45 minutes.
The rapid RER train service runs every 15 minutes, connecting the airport with Gare du Nord, Chatelet-les-Halles, Saint-Michel and Denfert-Rochereau.