Washington Dulles (IAD) Airport Guide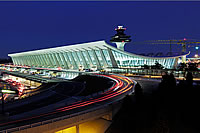 Washington Dulles International Airport is a major hub for domestic and international travel. The airport handles around 24.7 million passengers each year and is located 40 kilometres from downtown Washington DC.
First opened in 1962, the site is currently undergoing a major transformation as part of the Dulles Development programme. The scheme involves the expansion of the main terminal building and the construction of two additional runways, the first of which was unveiled last month.
Dulles International Airport Amenities
The airport is home to just one terminal building and passengers travelling through Dulles will find their needs well catered for.
As well as the usual array of foreign exchange counters, ATM machines and information desks, Washington Dulles International Airport is home to several gift stores and clothing boutiques, including upmarket store Brooks Brothers, which specialises in country club clothing and elegant basics.
Other stores include America!, which - the clue is in the name - offers all things American. Passengers can expect to find rhinestone-encrusted Obama badges, White House ornaments and more patriotic gifts and accessories than you can shake a stick at.
The airport is also home to The Smithsonian Museum Store, Solstice Sunglass Boutique and a large duty-free outlet.
For those in need of some speedy beautification, a ten-minute manicure bar opens daily from 7am to 9:30pm. Massage is also available, along with a shoeshine service.
There are dozens of eateries, including American favourites such as Wendy's and, Dunkin' Donuts and Auntie Anne's. However, passengers looking for something a little more sophisticated can head to the Vino Volo Wine Bar which, according to USA Today, adds a touch of class to the nation's airports.
Other sit-down bars and restaurants include Tidewater Landing, Harry's Tap Room and the Gaslight Bakery.
A business service centre is also located within the terminal building, where passengers will find fax, notary and photocopying facilities. Wi-Fi internet access is also available throughout the terminal.
Hotels located within close proximity to the airport include the Dulles Airport Wingate Inn, Hotel Sierra and Holiday Inn Dulles Airport.
Terminals at Washington Dulles
With just one terminal, even the most disorientated of passengers will have trouble getting lost. Everything is well laid out and centralised, so it's just a case of lugging your bag outside and jumping into a taxi.
Dulles International Transport Links
The Washington Flyer bus service operates regularly and for around $8 passengers can travel to downtown DC.
SuperShuttle buses operate a door-to-door shared van service to and from the airport, with counters located on the ground transportation level of the main terminal building.
Taxis are also available around the clock and one-way fares range from $51 to $58 for a single journey downtown.
Many hotels in the locality offer a complimentary shuttle service and details can usually be found on courtesy boards in the baggage reclaim area.
In addition, car hire is widely available, with companies such as Avis, Alamo and Hertz all operating at the airport.