Finnair Flights and Routes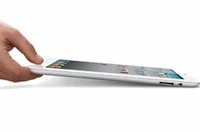 Finnair fly to 50 international destinations, such as Singapore and New York, to major European cities and to 16 destinations in Finland
Never one to stand still in terms of innovation, especially when it comes to customer comfort and convenience, Finnair are looking at replacing the concept of fixed entertainment systems with iPads. This change would see customers issued with their own personal entertainment system via a tablet meaning that in terms of flexibility the sky would be the limit.
The concept that the company are toying with is to allow each passenger to have an iPad or similar tablet which for the duration of the flight would provide them with at least the level of in-flight entertainment that is currently provided via the fixed screen audio visual systems at each seat. The vision of the Chief Operating Officer of Finnair is that the entertainment of choice would be streamed to the individual tablets from an on-board server which would link with them wirelessly. Additionally it is hoped that the individual preferences of each passenger could be integrated into the tablet they are issued with allowing for tailor made entertainment provision. This system is envisaged to work for frequent flyers with the airline who are offered choices of music or films based upon their previous choices.
The benefits of this system are obvious for passengers as they will be given better flexibility and choice and this will in turn make their journey even more of a pleasure as they immerse themselves into their chosen entertainment. It does also have very tangible benefits for the airline themselves as the units would be lighter and therefore save on fuel. Additionally the tablets would be independent of the aircraft and replacement would not involve complicated work upon the aircraft.
Finnair is a member of OneWorld