Where the Northern Lights Meet Santa Claus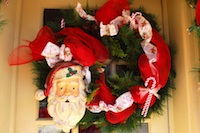 Perched on the edge of the Arctic Circle, in the north of Finland, Rovaniemi is a magical place for children and adults alike. As the capital of Lapland it is home to Santa Claus Village, which is open every day of the year and full of shops, restaurants, cafés and the famous Santa Claus Main Post Office.
Visitors have the opportunity to take some time with Mrs Claus, decorating gingerbread men and will also meet the elves as they make Christmas toys. The greatest adventure is a meeting with Santa Claus himself, who is at the village throughout the year.
Rovaniemi is also a destination for travellers who love the wild outdoors. Set in a landscape of forests and lakes, with ever changing seasons and the stunning Northern Lights displays, the city is geared up for both winter and summer sports. Canoeing, sailing, skiing, hiking, snowmobiling and husky sleigh rides are just some of the activities on offer. A trip into the Arctic Circle entitles visitors to a special certificate.
High quality hotels and fine food, drawn from the abundance of the natural surroundings, make this destination especially comfortable and enjoyable. The town has dozens of restaurants and cafés and a thriving nightlife is assured, thanks to its clubs.
History and science combine at Arktikum, a science centre and museum that offers dazzling displays, ranging from an exploration of the Arctic to the customs of the Sámi culture. The Korundi House of Culture, which plays host to ever changing art exhibitions, was opened in May 2011.