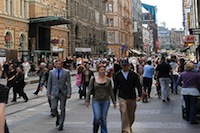 Book cheap flights to Finland by selecting an airport destination in Finland below. Compare flights to Finland from over a hundred airlines worldwide and book online with us today.
On the eastern side of Scandinavia, Finland is an enchanting country with breathtaking landscapes, masses of sporting activities and friendly, modern cities guaranteeing a memorable time for every visitor.
Whether based in a luxury spa, a rustic farmhouse lodge or even in a winter snow hotel there is plenty to see and do in magical Finland. Dive into the hustle and bustle of the lively towns, enjoy summer walking and winter skiing in the Ruka Fell or indulge in remote hikes through the haunting forests and nature trails.
Most of the larger cities in Finland boast international airports ensuring travellers reach their final destination with ease. The long distance buses and trains are comfortable and efficient and car hire can be easily arranged at the airports or major hotels making it easy to get around and make the most of your trip.
The coastal capital city of Helsinki is a popular destination for tourists with elegant hotels, luxurious shops, chic bars and a vibrant nightlife. Experience the local culture in the National Museum or the Espoo Museum of Modern Art, hire a bicycle to explore the parks and waterfronts, sip espresso in a friendly cafe, or enjoy some local haute cuisine in a stylish, modern restaurant.
Those seeking adventure can admire the coast and observe the local wildlife with one of many boat tours and archipelago cruises. For a more energetic experience, take a guided tour through one of the National Parks followed by a relaxing evening in a traditional Finish sauna.