Kittila Cheapest Fares
The lowest fare found to Kittila (KTT) was £254 with Finnair and the cheapest direct flight was £337 with British Airways. The fares shown here are the lowest flight prices to Kittila obtained in actual searches by Just The Flight customers. To search and book flights to Kittila in 2022 and 2023, please enter your requirements and click the search button above.
Kittila Offers Great Skiing Vacations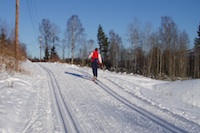 Did you know that Kittila in Finnish Lapland holds the record for the lowest temperature ever recorded in Finland, −51.5 °C in January 1999? Kittila is usually very cold in winter, but not usually that cold. However, because of its climate which is characterised by a lot of snow and because of its hilly terrain, Kittila is a popular skiing destination not only in the winter, but from October to June each year.
Kittila is home to the state of the art Levi ski resort. Levi ski resort is one of Finland's largest ski resorts, with the fell rising up to a height of 531 metres above sea level, and also one of the two Finnish ski resorts which offer gondola lifts as a facility. It also has a ski school, offering instruction in various forms of skiing and snowboarding, suitable for beginners. This really makes Levi a place for everyone from beginner to expert skiers, with most slopes catering to beginners and intermediates.
Besides skiing, there are also things that one can do in Kittila. Travellers can choose to take a sleigh ride pulled by either reindeers or huskies. Kittila is also home to Santa's Village, where the elves live and toys are made for Christmas, for people who write in to Santa Claus during Christmas time. Travellers can also go on a snow mobile ride, where they drive a vehicle up a uphill and downhill course.
With a great ski resort and other interesting attractions, Kittila is a destination not to be missed. Travellers who visit Kitilla are likely to have a lot of fun during their visit.