Tromso Cheapest Fares
To search and book flights to Tromso in 2022 and 2023, please enter your requirements and click the search button above.
Tromso's Northern Lights Festival, Norway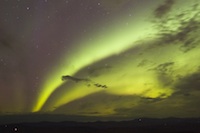 The last week in January is a special time in Tromso, Norway. Not only is this the time of year when the famous 'midnight sun' can be seen, it also offers residents and visitors alike a chance to enjoy the fabled Northern Lights Festival.
Originally a classical musical festival, the Northern Lights Festival has far outgrown its origins in the 1980s. It now incorporates a diverse range of musical styles including jazz, opera, genres closer to a classical music lover's heart, symphony orchestras and chamber music. Both Norwegian and international artists attend the festival from destinations all over the world to perform for the crowds. Notable entertainers in the past have included Martin Frost, Leif Ove Andsnes and Yuri Bashmet. Group performances over the years have included the Hong Kong Chinese Orchestra and the State Hermitage Orchestra. The Northern Norwegian Symphony Orchestra is often a featured player.
Other events at the festival, however, sometimes eclipse even the music. As tourists taking flights to Norway destinations have long known, Tromso is an area where it is possible to see the renowned Northern Lights. Cruises out of Tromso take advantage of this meteorological phenomenon. To lend additional Norwegian ambiance to the music, some of the concerts at the festival take place outdoors.
Musicians considering attending should keep in mind that there is more to do than merely observe or perform. Master classes for musicians are offered during the event, as well as lectures on a variety of music topics.