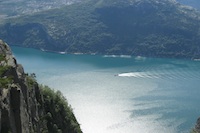 Book cheap flights to Norway by selecting an airport destination in Norway below. Compare flights to Norway from over a hundred airlines worldwide and book online with us today.
Mountainous Norway is in the heart of Scandinavia, bordering Sweden to the east, where the west coast meets the Atlantic Ocean.
Its capital is Oslo, which is home to the country's main international airport - Oslo Airport Gardermoen, about 50km north of the city. However, there are plenty of other airports across the country offering domestic and international flights. International airports include Bergen Airport Flesland and Stavanger Airport Sola among others.
Much of the country lies above the Arctic Circle and has some of the world's most striking hiking and skiing opportunities.
Tourists travelling to Norway are spoilt with choice. It is a photographer's haven and some of the country's most beautiful sights include Oslo's Vigeland Park with sculptures and statues lining the walkways, the Geirangerfjord which can be seen by boat or on foot, and the picturesque mountain islands of Lofoten.
Aside from the natural beauty which Norway has been blessed with, it has a number of cities worth visiting. Oslo boasts some of the country's finest bars and restaurants, while Bryggen, the old medieval quarter of Bergen, has an array of restaurants, museums and shops.
For polar bear spotting do not miss a trip to the Arctic archipelago of Svalbard, and for glacier hiking head to Jotunheimen National Park. The country has a great deal of natural resources including; petroleum, hydropower, fish, forests, and minerals. Exporting petroleum remains a focal industry in the country alongside food processing, shipbuilding and making pulp and paper products.