Alta Cheapest Fares
To search and book flights to Alta in 2021, please enter your requirements and click the search button above.
Northern Lights up Alta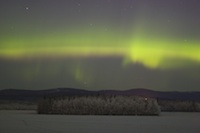 There are many things people say that they would like to do before they die, but by far the most universal is to see the Northern Lights, and Alta, Norway is a perfect place to do so. This unique holiday destination was the location for the world's first ever Northern Lights observatory and even earned the nickname 'City of the Northern Lights.'
Frequently stable weather and clear night skies make Alta the perfect destination to witness the aurora borealis for yourself, marvel at this cosmic phenomenon and get lost in this arctic paradise.
Best seen in the 'dark' season of winter, when the sun hasn't been seen in Alta for two months, the northern lights seem to come alive even more around the time of Christmas. Rivers of light dance across the sky as the particles of the earth's atmosphere are energised. As they come together, the result is the most spectacular natural light show on the planet.
The northern lights can be elusive, waiting for conditions to be perfect before putting on their show, but the time spent waiting only serves to make their appearance that little bit more special.
Tour companies offer northern lights packages and guides to ensure you pick the best weather and sky conditions to witness this amazing event and get the best light show possible while in Alta. This unforgettable holiday experience is well worth the planning and wait.