Sogndal Cheapest Fares
To search and book flights to Sogndal in 2020 and 2021, please enter your requirements and click the search button above.
Travellers join the annual Mountain Sports Festival In Sogndal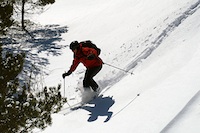 Located five hours away from Oslo is the city of Sogndal in Norway – a popular ski resort destination not only for Europeans but for ski enthusiasts around the globe.
The municipality hosts the Fjellsportsfestival – a popular Norwegian sports event and a major reason why a great deal of flights are booked going to this part of Sogn og Fjordane during wintertime.
For those who do not want to take part in the event, or are content watching the contestants try their luck in the different sports activities, skiing in this part of Norway on your own is definitely a wonderful idea. There are only a few places that can compare to the Sogn district's ski resorts – with its wild landscape and its beautiful mountains, this area is a major ski resort destination.
Backcountry skiing is also a main reason why many fly out to Sogn. Kambafjellet, Blåfjell and Grånipa are three of the most-visited backcountry skiing grounds in the western part of Norway. Descending from these skiing grounds is exhilarating and definitely an incredible experience for ski enthusiasts.
Other places to visit, aside from the ski resorts, include the Sogn Fjord Museum and the Sogn Folk Museum. These two places feature a range of artefacts about life in the area in earlier times.
One can also go hiking during the warmer parts of the year. Fjord cruises are also available in Sogn, giving visitors a chance to see the beautiful mountains of region.