Festivals and fun in Norway's Southern Harbour Town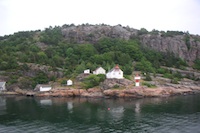 Kristiansand is a destination centrally situated on Norway's southern coast and is the country's second largest port. Seafaring has been in the town's blood for centuries and it is strategically placed for good access to the rest of Europe, especially by boat to and from Denmark.
The area surrounding Kristiansand is filled with small islands and beautiful scenery. Cycling is a popular form of transport, for both work and recreation, and the remote Setesdal Valley with its ancient churches, summer farms, and endless herds of goats is a trip back to its Viking past. Silversmithing and music making are long held traditions of work and entertainment here. A network of paths for walkers and cyclists has been developed and safety for cyclists has been made a priority.
As a port town, sailing is a key ingredient for a holiday experience. The many small islands can be visited on guided boat trips, and the Lindesnes Lighthouse, dating from the mid 17th century and the oldest in Norway, can be explored.
The Kristiansand Zoo and Amusement Park draws families from near and far, with opportunities to see tigers, lions, and monkeys as well as wolves, elks, and camels. A water park and theme park add to the enjoyment.
Most of all, Kristiansand is a festival town, with annual events taking place throughout the year. There is something for everyone: A Children's Festival, musical treats with the Blues Festival, an Island Gospel Festival, and three revolving markets with local produce and crafts, including a Viking Market.