Evenes Cheapest Fares
To search and book flights to Evenes in 2020, please enter your requirements and click the search button above.
The Festival of North Norway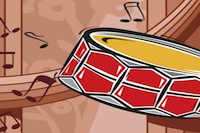 Harstad has been home to The Festival of North Norway, the most important Norwegian arts festival from as far back as 1965. Starting out as a music event with the aim to promote interaction between amateur and professional musicians, this event is held in Scandinavia's Midnight Sun destination and gives festival goers the chance to enjoy a splendid array of over 130 different events, including concerts, theatre and a host of seminars.
Nowadays the festival is an international destination, headlining popular international artists. It produces and presents a whole host of musical genres alongside a range of visual arts, performing arts, film and literature.
The Festival of North Norway also invests a strong commitment towards young people and children through its youth arm, the Children's Festival, and Norwegian Youth Culture now known as The Cultural Festival for Youths in North-Norway (Nordnorsk Ungdomskulturfestival).
As the major Scandinavian music festival in Scandinavia, performers also tour throughout the year and distribute financial aid to Norwegian musicians and artists of professional grade application.
The festival is now a firm part of the cultural life of Norway, providing unique opportunities for participation by both amateurs and professionals, young and old, all having the opportunity to perform and play together. It also provides a common forum of a host of art forms, for amateurs and professionals with a special feature being that, in addition to guest performances, the festival initiates and produces and then performs its own events throughout the summer.