Molde Cheapest Fares
To search and book flights to Molde in 2020 and 2021, please enter your requirements and click the search button above.
Molde Norway Jazz Festival adding to your Holiday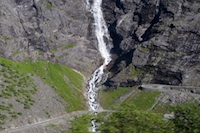 The destination of Molde, Norway is a city reminiscent of New Zealand or Seattle in respect of its coastal landscapes, but more than that it is home to one of the biggest Jazz Festivals in Europe each year. The Festival is the town's biggest claim and the largest draw for tourists with its vibrant rhythms. Almost 100,000 visitors descent on the town during the Festival.
Molde sits on the shore along the mouth of the Romsdalsfjorden's. Locals call the city "Town of Roses" because it has fertile soil, a mild climate, and beautiful vegetation. Molde also has modern architecture. To find sights akin to Seattle's Puget Sound or New Zealand's landscape, holidaymakers can drive or hike up to Varden Overlook before the Jazz Festival begins. The Overlook is 400m above Molde.
The Jazz Festival is held every July in the city centre. Performances are given by Scandinavian artists and international guests. Venues can include large concert halls or small clubs. The festival began in 1961, gaining fame every year with the top named attendees. Numerous old and new performers have been known to appear at the festival.
In 2011, Icelanders Royksopp and Sinead O'Connor from Ireland headlined the festival. In past years performers such as Jamie Callum and Herbie Hancock appeared on the stages. The Jazz Festival is not free to enter and is based on the headliner and event location. Tickets for the larger drawing shows must be purchased in advance for this annual festival.