Bardufoss Cheapest Fares
To search and book flights to Bardufoss in 2020 and 2021, please enter your requirements and click the search button above.
Bardufoss, Norway provides insight into aviation history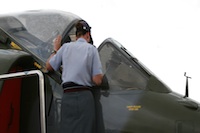 Tourists interested in military aircraft and aviation history can get a fascinating insight into the past at the oldest military airfield in Norway, located in Bardufoss.
The small town of Bardufoss, Norway, home to just 2,500 people, serves mainly as a military airport, while also serving a small number of civilian flights. The Royal Norwegian Air Force operates from the airport, as does the Royal Norwegian Air Force Flight Training School. Bomber aircraft and fighter jets can be seen landing at the airfield.
A town steeped in history, Bardufoss played a major part in World War II. It was used as a base by the RAF in the 1940 Norwegian Campaign and after the allied withdrawal from Norway, it was used as a strategic base by the German forces. Today the airport is used as a training base for Royal Navy and Royal Marine units, as well as for cold weather training by the British army, air force and navy.
The town of Bardufoss itself is picturesque, with spectacular views of forests and snow capped mountains. It is situated near the confluence of the Barduelva and Malselva rivers and is not far from the coast. Like much of Norway, the weather is typically cold, with temperatures usually close to and below freezing for much of the year. Even during the warmer months of May to September, temperatures rarely climb above 17 degrees Celsius. The area is less humid than the rest of Norway, because of its proximity to the coast.