Kiruna Cheapest Fares
To search and book flights to Kiruna in 2020 and 2021, please enter your requirements and click the search button above.
Adventure for all in Land of the Midnight Sun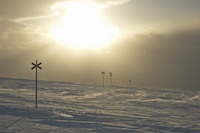 Kiruna, located in the north of Sweden, is surrounded by forests, mountains and lakes and for lovers of outdoor adventure is the perfect place to visit. The destination is Sweden's northernmost city, in the province of Lapland, and 90 miles north of the Arctic Circle.
Tourism here revolves around outdoor pursuits and there are so many that it would be impossible to fit them all in during a short stay.
Choices are very varied, with some taking the form of relaxing trips out on a sleigh and sightseeing for moose, while others can be very energetic. Visitors looking to get close to nature can go hiking through the stunning Arctic scenery, rock climbing and caving or taking a snowmobile on a fishing expedition. Even more energetic is cross-country skiing and there are always experienced guides and instructors at hand, while canoeing and kayaking on the lakes and rivers are other popular pastimes.
One of the wonders of the far north are the Northern Lights or Aurora Borealis, a natural phenomenon in the sky, creating stunning displays of shifting light. Special tours can be laid on from Kiruna and once seen it is an experience never to be forgotten.
This destination is renowned for its mining heritage and visits can be arranged deep into the LKAB InfoMine, one of the largest iron ore mines in the world.
No visitor will want to miss the world famous Ice Hotel, close to Kiruna, at Jukkasjärvi and a trip to the spaceport brings the world of high technology close to hand.