Ostersund Cheapest Fares
To search and book flights to Ostersund in 2020 and 2021, please enter your requirements and click the search button above.
Get Giddy in Sweden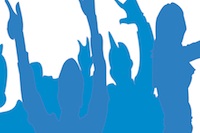 Ostersund in central Sweden is home to one of Scandinavia's biggest rock and pop festivals, Storsjöyran, which takes place in July of every year. This is no ordinary music festival however and its roots are firmly grounded in the spirit of the people who live here. Translating as The Great Lake Giddy Festival, the Storsjöyran Festival began in the 1960s and was started to show the rest of Sweden that although the county of Jämtland, where Ostersund is located, is sparsely populated, it has the courage, imagination and sheer chutzpah to put on a world class festival.
The town's ambition has paid off and now over 55,000 festival goers from all over the world attend the festival, together with some big name international artists including Lady Gaga, Pete Doherty, Bryan Adams, Blondie, Iggy Pop and Pulp. The festival is not just a music festival however. In the same vein in which the festival was initiated, Storsjöyran still celebrates the spirit of the Jämtland people and operates on the slightly bizarre premise that Jämtland is a separate republic from Sweden.
Every year the president of the 'republic' opens the carnivalesque proceedings with an extravagant speech, arriving in a suitably extreme way to the delight of the massed crowds. In the past, he has arrived on an elephant, in a hot air balloon and even crowd-surfed his way to the podium. Storsjöyran certainly is a music festival like no other.