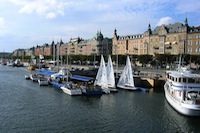 Book cheap flights to Sweden by selecting an airport destination in Sweden below. Compare flights to Sweden from over a hundred airlines worldwide and book online with us today.
Sweden is a Nordic country that is based on the Scandinavian Peninsula in Northern Europe and borders Norway and Finland; it is also connected to Denmark via Øresund Bridge.
Sweden's largest cities are its capital city, Stockholm, Goteborg, Malmo, Uppsala and Vasteras.
The largest airports in Sweden include Stockholm-Arlanda Airport, Gothenburg-Landvetter Airport and Stockholm-Skavsta Airport.
Sweden's main attraction has to be its landscape and beautiful sceneries. Stockholm has everything from museums and historical sights to parks, nightlife, and shops. The beautiful Lake Siljan, which can be found in the heart of Dalarna in central Sweden, as well as the hilly fertile land that surrounds it, is also a great place to visit. The mines in Sweden are some of the most exciting tourist attractions that can be found there. The copper mine based in Falun, Dalarna and the iron-ore mines of Kiruna and Gällivare in Lapland. As well as all of this Sweden also has many national parks and nature reserves that are ideal for long hiking tours with the most impressive scenery to be found in Lapland in the North.
The largest industries in Sweden are forestry, which has been very important to the Swedish economy since the 1850s, iron and steel, which is a traditional industry in the country and production, which is the largest manufacturing industry in Sweden with its popular companies being SKF, ABB and Ericsson. The largest industry in terms of employment in Sweden is the service sector, included in this sector are finance, education and medicine.