Cheap Flights to Lycksele (LYC) from UK Airports
Book flights to Lycksele
Lycksele Cheapest Fares
To search and book flights to Lycksele in 2020 and 2021, please enter your requirements and click the search button above.
Lycksele is a sportsman's paradise!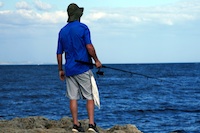 The town of Lycksele in Sweden's Lapland has found the perfect marriage between small-town excitement and stunning natural beauty. The two work in harmony here, creating a quiet, peaceful retreat for visitors from around the globe who come to take in the unique Scandinavian heritage and culture of the town. Lycksele's untamed wildness is known far and wide because of the yearly multitude of people who all descend upon it for the annual fly fishing competition, proving that it is a haven for sportsman from around the globe.
Lycksele has over 35,000 hectares of waters that are suitable for angling. Fly fishing is one of the premier sports here and people who love the sport come from around the world to cast their line into the crystal clear and cool waters here. The area also has a mining tradition and is located in the Gold Kingdom. Many people who want to experience the natural beauty and charm of the wilderness here but do not like to hunt or fish can take part in the gold washing instead.
Other excursions into nature are available, like a beaver safari in a canoe! The unique chances to experience Lapland in a completely different way are abundant here, right along with the hunting grounds and the wildlife that many come here to hunt every year. With over 500,000 hectares of hunting grounds, it is no surprise that sportsmen find Lycksele to be an outdoorsman's delight! The annual Fly Fishing competition here is the largest in the world and one of the best anywhere.