Umea Cheapest Fares
To search and book flights to Umea in 2020 and 2021, please enter your requirements and click the search button above.
A City Young at Heart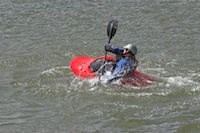 The great outdoors in summer or winter beckons visitors to Umea in the north of Sweden. Set at the mouth of the Ume River, from which it takes its name, Umea is on a inlet of the Gulf of Bothnia and hugely popular for all kinds of water sports.
Summer is the time for canoeing and kayaking around the many little islands that dot the waters of the archipelago. Sea and river fishing are easily available at this destination, with boats for hire for heading into deeper waters and tackle and tuition easy to access for less experienced anglers. Swimming facilities are in abundance in the area, with heated pools common and all manner of slides to provide energetic entertainment.
During the colder months, the emphasis is on skiing and other winter sports. Snowmobiling in the forests or perhaps a ride on a sledge pulled by huskies can be enjoyed, and a special trip can be taken on a giant raft for some whitewater action in the late evening where the Midnight sun can be experienced.
For a less physical type of enjoyment, the Umadalen Sculpture Park features some 40 works by Swedish and international artists and the Holmsunds Tropikhouse is ideal for those who are interested in exotic animals from around the world.
Festivals are a popular part of the local culture, with annual music festivals featuring, amongst others, rock and jazz , and opera lovers can take advantage of Sweden's northernmost opera house. A young population means that nightlife in this destination is always busy!