Vaxjo Cheapest Fares
To search and book flights to Vaxjo in 2020 and 2021, please enter your requirements and click the search button above.
Christmas Festival is popular with visitors to Vaxjo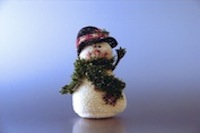 The city of Vaxjo, in Southern Sweden is a popular destination for visitors due to the welcoming, friendly atmosphere of the place, which manages to be both a calm haven and bustling city at the same time. While the summer months are the prime time to visit Vaxjo, with plenty of beautiful scenery to explore in the clean air of 'Europe's greenest city', the winter months also offer plenty to see and do, including the renowned Christmas market at nearby Huseby Bruk.
Near Bruk, located 20 kilometres from Vaxjo, is an old ironworks that houses an iron and steel museum, a grinding mill and an exhibition featuring carts and carriages. During the winter, Huseby Bruk becomes home to the largest Christmas market in Scandinavia. The large halls are transformed into a winter wonderland, with music, performances, and traditional and modern decorations. Kids will be thrilled to see Santa Claus and there is plenty on show to keep everyone entertained.
With over 200 stalls and exhibitions, the Christmas market offers plenty of arts and crafts, along with seasonal food and drink, gifts, decorations and ornaments. Tens of thousands of visitors flock to Huseby Bruk each year to enjoy the delights the market has to offer, and the festive atmosphere makes this a great experience for all the family.
There are many Christmas fairs and markets to be found all over Sweden and Scandinavia during the winter months. Huseby Bruk hosts one of the best and visitors to Vaxjo should consider travelling the short distance to see this wonderful destination during their holiday.