Kramfors Cheapest Fares
To search and book flights to Kramfors in 2020 and 2021, please enter your requirements and click the search button above.
A music festival to rock the Northern Lights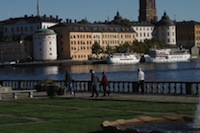 Northern Europe is becoming a Mecca-like destination for lovers of music of all genres. Throughout the summer months, echoes of jazz, blues, rock, and classical music can be heard in the mountains and across the lakes and waterways of all the Scandinavian countries.
Kramfors is a friendly small town, located in the middle of Sweden 300 miles north of Stockholm. It is host to a special type of music event that is rapidly growing in popularity worldwide. JesusRock is a Christian Music Festival that embraces a wide range of musical styles – rock, pop, hip-hop, metal, singer/songwriters, and others.
Bands from all over the world come to take part in this four-day Christian music based event. JesusRock is a feast of music, a true festival, characterised by joy, relaxation, and the freedom to breathe and let down one's guard. The drug-free grounds, the proximity of the artists, and the presence of counsellors are all features that create a warm and safe environment for families and young people.
This is Woodstock for the 21st Century without the drugs and alcohol; it is a rock concert and county fair all rolled into one. Though the festival invites well known Christian speakers to give talks and hold seminars, the atmosphere is not intensely religious. Music is definitely the core attraction of this festival. If you make the JesusRock Festival grounds your summer destination of choice then a flight to Kamfors could be a journey to a new way of life.