Orebro Cheapest Fares
To search and book flights to Orebro in 2020 and 2021, please enter your requirements and click the search button above.
Traditional celebration brings revellers to Orebro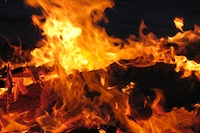 The Swedish city of Orebro is the capital of the county of the same name and is situated in the south of the country. It is a university city, which is also popular as a tourist destination, thanks largely to the nearby Gustavsvik water park, the largest in the Nordic countries. This attraction draws over 700,000 visitors to the area every year. Orebro host many events and celebrations, one of the largest being the Walpurgis Night festival.
A celebration of springtime, Walpurgis Night is usually held on 30th April, though the festivities often extend well into Labour Day, which takes place the following day. The main event involves lighting huge bonfires, which blaze throughout the night and is a custom that first began in the 18th century as a means of warding off witches and demons.
The celebrations in Orebro are focussed around Orebro castle, which is illuminated by torches as revellers sing songs of spring in celebration of the ending of a long dark winter. Due to the large student population in the city, Walpurgis Night is often combined with the student's springtime festivities, ensuring an exciting party atmosphere in the city.
Orebro is a great destination to visit at any time of the year, but this celebration of spring ensures it will be particularly lively and joyful. There is no doubt that tourists, wherever the may come from, will be welcomed into the festivities as locals and visitors alike party throughout the night.