Karlstad Cheapest Fares
To search and book flights to Karlstad in 2020 and 2021, please enter your requirements and click the search button above.
Solar City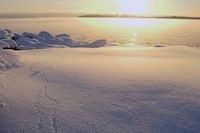 In the 1700s, popular waitress Eva Lisa, with her sunny temperament and welcoming smile, was nicknamed 'Sola' and a statue of her now graces the Stadshotel in the small town of Karlstad, Sweden in which she worked. Known as the 'solar city', with a picture of a smiling sun as its official logo, this destination often finds itself at the top of the Swedish record for hours of sunshine per year.
Värmland, comprising about 70% of the region, is covered with evergreen forests of pine and spruce, and Karlstad is situated on the shores of Lake Vänern, the largest lake in Western Europe. The Cathedral dominates the skyline and the town square (Stora Torget) where summer visitors will find free bicycles available so they can explore the local area. In the square, The Peace Monument, commemorating the peaceful dissolution of Norway and Sweden, is a popular meeting place.
Löfbergs Lila Arena is the home of the local ice-hockey team and The Nöjesfabriken ('Pleasure Factory') offers go-karting, ten-pin bowling and also has a golf simulator. Both venues regularly host top Swedish and overseas musical artists.
In fact, a burgeoning music scene means that Karlstad is the destination for some of the biggest names on the pop music scene – Bob Dylan, Dolly Parton and Elton John, for example, have all visited. Fans of classical music are not disappointed either – Värmland's Opera and the Karlstad Theatre have events year round. Popular musicals complement the opera offerings and the local Sinfonietta adapts to all types of music, inviting guest musicians and conductors regularly, including the world-famous tenor José Carreras.