Ornskoldsvik Cheapest Fares
To search and book flights to Ornskoldsvik in 2020 and 2021, please enter your requirements and click the search button above.
A natural destination for the outdoor enthusist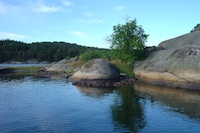 Founded in 1894, Ornskoldsvik is a relatively young city in comparison with its surrounding neighbours. Situated in the Gulf of Bothnia with its northern boundaries along the High Coast, the city is one of tradition.
This destination will take you back 7,000 to 8,000 years as you explore the history of the area however the city centre is a modern shopping haven with luxury restaurants and quaint terrace cafes.
Ornskoldsvik is known for its natural wonders, which includes locations such as the Yellow Trail or Hoga Kusten Leden, the High Coast Trail for its magnificent hikes that wind through the Skuleskogen National Park. The entire area is surrounded by massive cliffs that drop straight down into the Gulf of Bothnia.
Local attractions include the Ornskoldsvik Museum and Art Gallery, which outlines the history of design as well as the nation's history. The Hans Hedberg Museum should also be on your list because of its world-renowned ceramics collection.
The Inre hamnen or the Inner Harbour should also be a destination choice. It is a very popular place to meet for a relaxing stop, take in the surrounding sights, or grab a bite to eat. This area is a lively one, with the university and college located nearby. The harbour areas have been awarded the Blue Flag and are considered the best in Sweden.
Golfing in Sweden is possible by taking a drive to Foppagolf or the Veckefjardens Golf Course. Just south of town, you will come upon a beautiful 18-hole golf course that will surely make any golfer in your group happy.