Norrkoping Cheapest Fares
To search and book flights to Norrkoping in 2020 and 2021, please enter your requirements and click the search button above.
Norrköping's August Festival lights up the night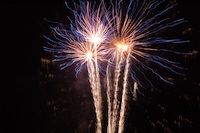 The city of Norrköping is situated on the Motala River System and a bay of the Baltic Sea is the location for the August Festival. Because the winters in Sweden are very long, August is a popular time for festivals as it means the ending of the summer and the start of autumn and the colder weather, so the most is made of the warm weather. The festival is an annual event that has something for everyone and is very popular. It concludes in the evening with a large fireworks competition.
Norrköping's August Festival is held each year during the month of its title and is a three-day event that has many different attractions including a fun fair, traditional market, children's carnival and family day. It is also host to the Swedish Musical Fireworks Championships that begins as the day turns to night.
The festival is centred at the Saltängsbron Bridge, where the Swedish Musical Fireworks Championships starts to light up the night sky and brings the festival to an end. Having had a busy day enjoying the events attractions, visitors are able to enjoy a concert in the sky with fireworks being accompanied by music.
Norrköping is a destination that is very accessible using various methods of transport including car, train or there are many flights to the city from many locations within the United Kingdom. Norrköping Airport is very close to the city centre and it is a destination that offers many options for accommodation including hotels or bed and breakfasts.