Fukuoka Cheapest Fares
To search and book flights to Fukuoka in 2022 and 2023, please enter your requirements and click the search button above.
A Modern City on the Sea With Fascinating Contrasts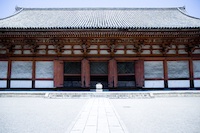 Japan is a country of enormous contrasts; the harbour city of Fukuoka is closer to the mainland of Asia than it is to its country's capital, Tokyo. It is a modern city and a destination that provides a fascinating glimpse into Japanese culture, both old and new.
Once the gateway to Asia and the site of a failed attempt at invasion by the Mongols of Kublai Khan, the beginning of the 17th century saw huge fortifications being built. The remains of these can be seen in Maizuro Park, one of the many parks dotted around the city. During March and April every year the park becomes one of the best places to see the famous Japanese cherry blossoms.
Fukuoka is a very busy port and there are many pleasant beaches, just a short trip away from the main urban areas, which are served by restaurants and cafés.
Down by the waterfront is Momuchi, a popular destination with both visitors and locals. This is a modern area, with tree-lined streets and futuristic buildings, including the Fukuoka Tower, a skyscraper 234 metres in height with observation deck from which it is possible to have a panoramic view of the city and its environs. Hawks Town is a thriving shopping and entertainment complex around Fukuoka Dome, which is home to a professional baseball team.
Canal City Hakata is known as a "city within the city" and boasts a large shopping and entertainment complex. There is an enormous choice of restaurants, shops and cafés, together with cinemas and a theatre.