Sapporo Cheapest Fares
The lowest fare found to Sapporo (SPK) was £876 with China Airlines. The fares shown here are the lowest flight prices to Sapporo obtained in actual searches by Just The Flight customers. To search and book flights to Sapporo in 2021 and 2022, please enter your requirements and click the search button above.
The Snow Festival in Sapporo, Japan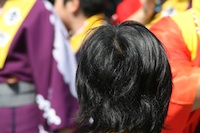 Sapporo is Japan's fifth largest city and is located on the island of Hokkaido. The Sapporo Brewery is located there, and the city is famous for its white chocolate biscuits which are called 'White Lovers', and which are found only in Hokkaido. But Sapporo is best known for its Yuki Matsuri, or Snow Festival, which is held every year in February.
The Sapporo Snow Festival is held annually at three venues – Odori Park, the grounds at the Community Tsudome and on the main street of Susukino, which is the city's nightlife district. The festival transforms this destination into a fairytale wonderland and has grown into one of Japan's largest winter events. The event lasts for seven days and features every form of snow and ice sculpture and carving imaginable.
This festival had rather humble beginnings when it started in 1950. It consisted of just six statues made by school children. The biggest boost came five years later when the Self Defence Force joined the competition and started the trend of creating the massive snow and ice sculptures that are now a regular feature. The Snow Festival came fully onto the world stage when the Winter Olympics was hosted at this destination in 1972. Two years later the International Snow Sculpture Contest was added to the festival.
About two million people come to Sapporo to participate in and enjoy this icy extravaganza every year. Some of the participants are from nations that do not even have snow. In past years the festival has had themes based on places around the world such as Shenyang, China, Alberta, Canada, Munich, Germany, and Portland, Oregon, USA.
The Sapporo Snow Festival is a one of a kind event where the shimmering snow and sparkling ice transform the world into something exquisite.