Sapporo Cheapest Fares
The lowest fare found to Sapporo (CTS) was £876 with China Airlines. The fares shown here are the lowest flight prices to Sapporo obtained in actual searches by Just The Flight customers. To search and book flights to Sapporo in 2022, please enter your requirements and click the search button above.
A Winter Wonderland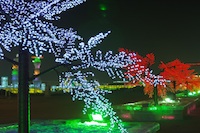 What could be attracting more than two million people to Sapporo, Japan in February? It seems that an ever-growing number of visitors each winter are coming to visit the Sapporo Snow Festival. This is an extraordinary event – imagine hundreds of beautiful snow statues and ice sculptures lining the renowned Odori Park, the principal street in Susukino and the grounds at Tsudome.
This internationally recognised festival is deservedly acknowledged as one of the biggest and most well-known of Hokkaidō's winter events. Sapporo is at the heart of the northern ski fields and also hosts the 'Toyota Big Air' – a snowboarding competition featuring significant numbers of international stars.
Luckily, there are festivals all year round in the lovely city, the fifth largest in Japan, so visitors to this destination will never be disappointed. Sapporo is clean, welcoming and has a relaxed atmosphere. It has wide, tree-lined streets, museums, lots of parks and a magical botanical garden.
As a winter destination the city presents a vista of statues and sculptures – both small and large – that turn Sapporo into a wonderland of crystal-like ice and white, powdery snow. At other times of the year, visitors can still enjoy attractions such as the beer museums and gardens (Sapporo Beer-en and Hokkaidō) and the Jōzankei Hot Spring.
The Clock Tower dates from 1878 and is a famous landmark; the Salmon Museum is an intriguing cross between a museum and an aquarium, and Sapporo abounds with wonderful restaurants and opportunities for a lively nightlife.