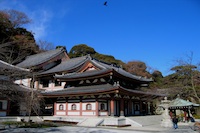 Book cheap flights to Japan by selecting an airport destination in Japan below. Compare flights to Japan from over a hundred airlines worldwide and book online with us today.
Japan is located in East Asia. The nation is made up of a large archipelago of numerous islands. Its neighbours are Russia and North and South Korea.
Tokyo, the capital, is one of the most-populated cities in the world and is in the eastern part of the country. Osaka is another large city that is considered important, and is south-west of Tokyo. Hiroshima and Nagasaki have both been extensive rebuilt since World War II.
When you arrive by air, you are most likely to arrive in the capital by way of Narita Airport. A second airport, Haneda, also has some incoming international flights. Another popular airport is Kainsai Airport, in the Osaka area.
Some of the most popular tourist attractions in the country are the castles, which are found in several locations. Hirosaki Castle and Uwajima Castle are two of the most popular ones. Many castles have artefacts on display. If you like beautiful gardens, be sure to visit Ritsurin Park in Takamatsu. The city of Kyoto is home to some of the most impressive Buddhist temples in the country. If you would like to learn more about Japan's Christian martyrs, Nagasaki has a museum located on a martyrdom site. Nagasaki, as well as Hiroshima, has memorials to those who died in the atomic bombings, which are quite moving. There are several fascinating outdoor sites worth seeing, such as Mt. Fuji. The mountain at Haguro has an impressive forest that is worth visiting.
Japan has a number of thriving industries, with a majority of its exports consisting of cars and technology items. Agriculture continues to play a role in the economy. There is also a considerable amount of fishing.