Niigata Cheapest Fares
To search and book flights to Niigata in 2021 and 2022, please enter your requirements and click the search button above.
Undaunted Japan wills "Rock On" this summer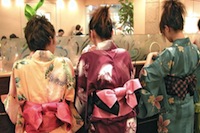 Masahiro Hidaka, iconic head of Smash Corporation, the largest and most successful promoter of music festivals in Japan, has announced that, despite the recent events, the massive rock music festival Fujirock will go ahead as planned. Through the ongoing benefit project entitled "Benefit for Nippon", messages of support have been received from artists all around the world. This project along with various other charity initiatives will provide funds to support the ongoing recovery efforts in Japan.
This rock music festival, which attracts hundreds of thousands of people each year, is held in Niigarta, high in the mountains, at the popular ski resort destination of Naeba. Faultless organisation and cleanliness are the key notes of this event. A number of large outdoor stages and one indoor venue are made accessible by a winding forest boardwalk dotted with sideshows and hammock sites. A famous cable car system known as Dragondola will carry attendees, beyond the three mile stretch of the festival site, to the famous Silent Breeze stage on the summit of the mountain.
Headline shows can be enjoyed in the natural amphitheatre of the Green Stage, while dance acts and DJs in the Red Marquee keep the crowds rocking until dawn. Staff, audience, and artists together will make Fuji Rock Festival the perfect place to enjoy music and support Japan.
As Masahiro Hidaka has always said" Fuji Rock is more than just a music festival; it is a true coming together of art forms, food, cultures, and people."