Nagoya Cheapest Fares
To search and book flights to Nagoya in 2021 and 2022, please enter your requirements and click the search button above.
Nagoya Festival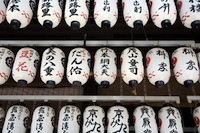 Nagoya Festival is one of the largest festivals that comes to the city of Nagoya each year. It celebrates the heroes of Japanese history while still promoting a fun and light hearted atmosphere in which to enjoy the breathtaking Japanese autumn season.
Over time, the festival has become one of the most important events in Nagoya. It now attracts thousands of attendees every autumn and is one of the favourite attractions of tourists and visitors.
The festival highlights three samurai heroes from Japanese history. Actors dress in traditional samurai garb, complete with makeup, armour, and swords, as national historical figures Nobunaga, Hideyoshi, and Leyasu. The highlight of the event is when these three figures, and many others, parade through the city. Floats commemorate the three heroes while a huge parade marches in their honour through the city. The flower bus, which has been a part of the festival since 1966, is a particular favourite. It is ornamented with flowers that make it a gorgeous spectacle.
The Sakae district of Nagoya contains most of the main events and activities of the festival. Many of the events take place near the Oasis 21 complex, Hiasaya-Odori Park and the nearby television tower. Over the course of the two day festival, the entire city of Nagoya and its many visitors get swept up into the fun.