Nagasaki Cheapest Fares
To search and book flights to Nagasaki in 2021 and 2022, please enter your requirements and click the search button above.
Nagasaki is a centre for festivals annually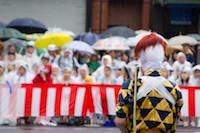 The city of Nagasaki is famous throughout the world for its elaborate festivals through the year. The Japanese culture and people are on full display during some of the year's most exciting events. In Japan, festivals are known as 'matsuri'. They are often held to celebrate holy days, state holidays and other special anniversaries for the Japanese people.
One of the most popular and favoured celebrations every year takes place in October during the Kunchi Festival, also known as a festival of the Shrines. Thousands of people take to the street as Chinese dragons, eccentric puppetry, and colourful costumes are displayed in vivid detail during parades and parties in celebration during one of the three largest and most popular festivals in Japan. The tradition of celebrating the Kunchi festival in Nagasaki began in the 1600s and continues today as an important part of the autumn festivities of the country. People from around the country and the world gather in the city to take in the opulent displays.
Another favoured celebration is the Nagasaki Lantern Festival that happens annually as well. The streets of the city and the surrounding area are lit up with brightly coloured lanterns. The lanterns illuminate the streets and houses, creating an awe-inspiring spectacle for visitors and locals alike. This celebration has an almost whimsical and magical appeal to tourists who visit during this time of year.
Japan is a country of natural beauty and cultural traditions. Flights to the city are offered daily, making it an easy destination for anyone looking for a unique holiday.