Chicago O'Hare (ORD) Airport Guide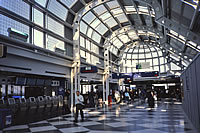 Chicago O'Hare International is one of the world's busiest airports and handles more than 70 million passengers a year. The airport is currently undergoing a multi-billion dollar modernisation and last year scooped the Global Traveller Award for the best airport in North America. O'Harecomprises four terminal buildings and is situated around 29 kilometres north-west of downtown Chicago.
The airport offers more frequent city connections than any other airport in the world and boasts an automated train system that connects the four terminals. Carriers operating from Chicago O'Hare include British Airways, Air France, and Virgin Atlantic.
O'Hare International Airport Amenities
As one of the largest and busiest airports in the world, passengers travelling though Chicago O'Hare International Airport can expect to be well-catered for.
The airport is home to a full-service bank, several bureau de change centres, a post office and a medical centre. Passengers can also make use of the inter-faith chapel, which opens 24-hours a day.
A children's play area is also available and disabled passengers will find Braille buttons in all lifts and representatives offering assistance throughout each terminal building. The ATS train system that connects each terminal is fully accessible and disabled passengers will find ramps, lifts and elevators at each stop.
Wireless internet access is available in several locations throughout the airport and Terminal 2 is home to a business centre. Passengers using the Hilton Business Centre will find fax, photocopying and shipping services, as well as laptop connections, printing services and telephones. Terminal 1 also offers a Laptop Lane facility, which enables passengers to connect to the internet and print documents.
There are numerous restaurants dotted throughout the airport, including the Billy Goat Tavern and Grill, the Artist and Writer restaurant, Cafe Zoot, the Budweiser Bar and the Corner Bakery, as well as the usual array of fast food outlets and coffee houses.
All terminals in the airport house a World Duty Free shop, as well as numerous gift and clothing stores, including the Chicago Historical Society Gift Shop, Sunglass Hut, Altitunes and the Hudson Book Corner.
Passengers with plenty of time on their hands can also take a stroll around the airport's permanent art collection. The airport is a supporter of the arts and hosts numerous exhibitions throughout the year.
Terminals at Chicago O'Hare
Chicago O'Hare is home to four terminal buildings, all of which are connected by a free ATS train system. Trains operate 24 hours a day and the fully automated service transports over 2,400 passengers an hour. The system also takes in the long-term car park and Metra stop, ensuring that passengers can travel easily at any time of the day or night.
O'Hare International Transport Links
Arriving at Chicago O'Hare International Airport, passengers will find plenty of options for travelling into the city. A 24-hour Metra service operates between the airport and downtown Chicago, with the main station accessible from terminals 1, 2 and 3.
Continental Airport Express busses also operate from all terminals and connect the airport with the city centre, as well as several northern destinations. The shuttle centre is located on the ground floor of the Terminal 5 car park.
Taxis are available round the clock. Ranks are located outside the arrivals and departure areas and the average journey time to downtown Chicago is around 40 minutes.
Car hire is also widely available, with the majority of companies operating from the lower levels of Terminal 1,2 and 3. Hire Care companies based at Chicago O'Hare include Avis, Budget, Dollar, Hertz and National.