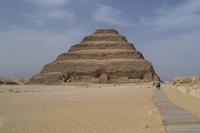 Book cheap flights to Egypt by selecting an airport destination in Egypt below. Compare flights to Egypt from over a hundred airlines worldwide and book online with us today.
Egypt is a country located between the Middle East and North Africa, an area often referred to as "al-Magreb" due to its Arabic influences. Egypt's full title is the Arab Republic of Egypt, although it is known in Arabic as "Misr". The country covers an area of almost 400,000 square miles and contains various deserts. It is bordered by the Mediterranean at its north coast, the Gaza Strip and Israel in the north, the Red Sea at its east shore. Egypt lies north of Sudan and east of Libya. Its main international airport is Cairo airport, which is one of the fastest growing airports in the Middle East. One of the main economies in Egypt is the tourism industry and the country receives many visitors each year. The official language is Arabic although English is commonly found in many of the common tourist areas.
Its capital city is Cairo although there are many notable and historical cities within Egypt including Alexandria, and Sharm al-Sheikh has also become more popular. The most significant attractions include the White desert, the Black desert, the Pyramids, Sphinx, and numerous other places. The Pyramids are a particularly strong draw for tourists from around the world because they are such a famous landmark, although there are also many other historical sites within the country that are worth visiting. Egypt has excellent beaches and is internationally renowned as a diving destination.