Aswan Cheapest Fares
To search and book flights to Aswan in 2020 and 2021, please enter your requirements and click the search button above.
Aswan - The Hottest City in Egypt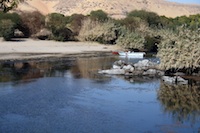 When choosing a holiday destination, for some people, the most important question is 'how hot will it be?' When it comes to Aswan in Egypt, the answer is simple as it is the hottest inhabited place in Egypt and it is not just a dry heat either. As possibly the sunniest place in Egypt as well, it is the perfect place for working on that summer tan while surrounded by history.
Not surprisingly, in temperatures that can reach over 50 degrees Celsius in July, the pace of life in Aswan is slow, making it the perfect destination for a relaxing holiday. Spend your days strolling along the Nile, watching sailboats or dining on freshly caught fish in a floating restaurant that features Nubian music in the background. Then settle down to watch one of the most beautiful sunsets on the planet before taking in the Nubian dancers and music that is performed every night at the Cultural Centre. Whether you watch scenes from village life recreated by Folklore troupes or the famous Nubian mock stick-fight dances, you can sit back and relax as history comes to you.
Situated just under 129 kilometres south of Luxor, Aswan offers a unique experience, blending African and Egyptian culture. Even though Aswan is small enough to see by foot, it is not lacking in attractions. It seems that every corner you turn brings something from Egypt's past directly in to your present. It is the perfect destination for a relaxing, lazy holiday.