Luxor Cheapest Fares
The lowest fare found to Luxor (LXR) was £551 with EgyptAir. The fares shown here are the lowest flight prices to Luxor obtained in actual searches by Just The Flight customers. To search and book flights to Luxor in 2021 and 2022, please enter your requirements and click the search button above.
A Taste of Ancient Egypt at Luxor's King Tut Festival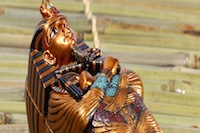 In November 1922, the long hidden tomb of the Egyptian pharaoh Tutankhamen was opened, revealing to the to the entire world a vast collection of antiquities that had been buried in this destination for thousands of years. The city of Luxor honours this amazing event with an annual festival in November. Known variously as the King Tut Ankh Amun Festival, the King Tut International Festival, and Luxor National Day, the event each year sees hundreds of thousands of excited tourists, many of them from abroad, flocking to the intriguing destination of Luxor.
Tutankhamen, who was one of Egypt's youngest pharaohs, was responsible for restoring the old religion to Egypt. During his time, the Festival of the Opet was celebrated to mark the annual flooding of the temperamental Nile River; an image of this procession is carved into the side of the grand Luxor Temple. The modern King Tut International Festival is based upon the ancient traditions depicted in these carvings, which were laid down thousands of years earlier.
The modern festival, considered a renaissance or rebirth of ancient Egyptian tradition, has been in existence since 1994. The King Tut International Festival features musicians, dancers and a procession in which large effigies of ancient Egyptian gods are bedecked in jewels and carried all the way from Karnak to the temple in Luxor. Tourists taking flights to Egypt in November should make the time to witness this modern re-creation of an important ancient event.